IoT Management System - High quality IoT Management System manufacturer from Taiwan | Proscend Communications Inc.
PROSCEND is Taiwan high-quality IoT Management System manufacturer and IoT Management System supplier Proscend Communications Inc. was founded in 1999 and is located at the Hsinchu Science Park, a well-known high-tech park in Taiwan. Our mission is to design, develop, manufacture, and market innovative broadband products of networking. since 1999.
IoT Management System
O'smart
Network Management System, Remote Management Software
Proscend IoT Management System O'smart is a remote management platform designed to streamline network management, facilitate deployment efficiency, and achieve maximum productivity. By taking advantage of device management, device monitoring, instant alerting, summary analysis, GPS tracking, and agile support, the O'smart enables you to rapidly roll out large-scale deployments in diverse environments for IoT solutions. With 24-hour monitoring, simplified provisioning, and data visualization, the O'smart easily diagnoses the networks and devices anywhere, anytime.
IoT Management System O'smart Enables Powerful Features
Device Management
The IoT Management System O'smart personalizes dashboard to create a customized view and update over-the-air on firmware, restore, or backup configuration with simple clicks. Streamlining management of massive distributed devices reduces overall operational costs while maintain everything remotely, even without a public IP.
Device Monitoring
The IoT Management System O'smart provides graphics visualization to easily monitor the health condition, signal strength, and location statistics for diagnosing the status of remote devices. O'smart offers seamless interface design to evaluate all information flexibly and operate in one finger click by a portable tablet or a mobile phone.
Instant Alerting
The IoT Management System O'smart offers instant alarms or event notifications via emails and instant messaging for helping administrators quickly maintain the situation and solve failure immediately. It mitigate the risk and reduce network downtime to bring a benefit of saving cost.
Summary Analysis
The IoT Management System O'smart delivers analyzed data and custom statistics reports of network health and device status. The real-time data visibility with dynamic interactive display allows administrators to instantly identify for troubleshooting and make a comparison with any point of history to enhance the network efficiency.
GPS Tracking
The IoT Management System O'smart enables GPS tracking to display the positions on the map and record the real-time routes for remote devices. All information is stored into O'smart, it is efficient to monitor the movement status and track the history with ease.
Agile Support
The IoT Management System O'smart enables the administrators to guide maintenance staff via O'smart Go using smart phones to deploy the new sites, or troubleshoot the problematic sites, and report automatically to the O'smart platform.
Advantages
24/7 all-time monitor automatically.
24/7 access no matter where you are and no matter where the devices are located.
Real-time alerts by emails or Instant Messaging Apps.
Remote bulk configurations for device settings to save provisioning cost and time.
Efficient tracking and instant response to prevent the damage from device downtime.
User defined report format and custom period for easy analysis to improve productivity.
Data visualization, customized dashboard, and user-friendly interface operation.
Applications
Proscend IoT Management System O'smart provides a centralized network management platform that features device management, device monitoring, instant alerting, summary analysis, and GPS tracking. Proscend O'smart streamlines network monitoring and troubleshooting wherever you are and the devices are located, even the staff is off-duty, O'smart helps the administrator deliver the instant event notification via an email and handle the issue quickly.
O'smart is designed to remotely access, monitor, and control Proscend's Industrial Cellular Routers for large-scale deployments and vehicle applications in IoT solutions. For example, the Industrial 5G Cellular Router M350 is hard to inspect and maintain when it is installed on each 5G smart pole at 9-25 meters height, the staff utilizes O'smart to evaluate the M350 cellular router if it operates properly by using a mobile tablet. Moreover, O'smart can report the emergency to the control center and keep minor issues from becoming huge losses when the Industrial 4G LTE Cellular Router M330 is used in the fleet management.
With real-time scalable configurations, valuable data analysis, and seamless operation by mobile devices, Proscend O'smart simplifies network and device management to make all things much smarter in IoT solutions wherever deployed in EV charger, unattended parking lot, smart elevator and solar power plant, etc.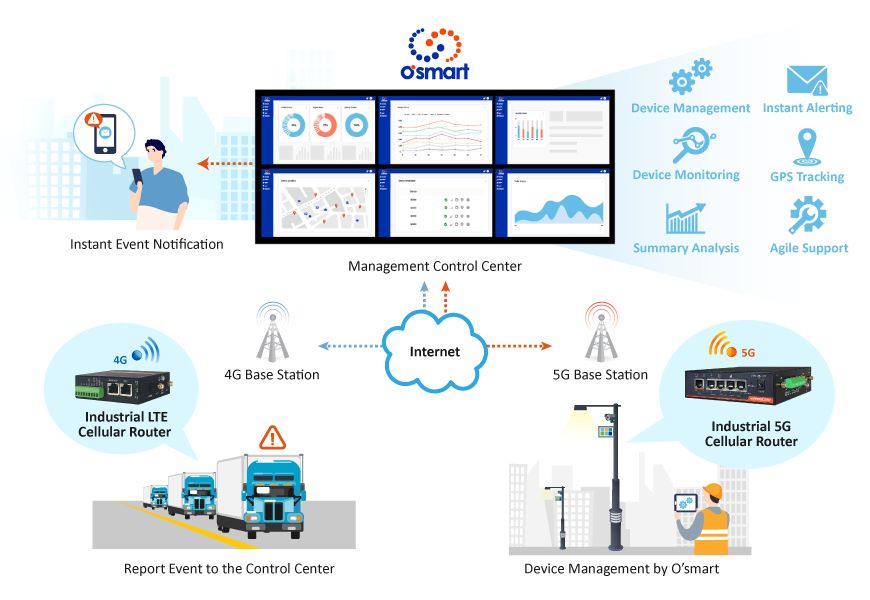 Proscend IoT Management System O'smart Accelerates Large-scale Deployments and Vehicle Applications.
Related Products
Industrial 5G NR Cellular Router
Get Industrial 5G Cellular Router Datasheet.

Download
PROSCEND IoT Management System Service Introduction
Based in Taiwan since 1999, Proscend Communications Inc. is a world-class and industrial grade IoT Management System supplier and manufacturer with more than 25 years of experence in the Network Communication Industry. Major products and services, including Industrial-grade products,Internet of Things solutions, and Intelligent Network Management System. All network communication device and systems can manage data from devices connected to IoT networks in any harsh environment.
PROSCEND not only enables customers with mission-critical Internet of Things (IoT) connectivity products, services, and solutions, but also provides a network and device management platform to ensure reliable Internet and secure data in demanding environments for deployments of any size, anywhere.
PROSCEND has been offering customers high-quality IoT Management System production service, both with advanced technology and 25 years experience, PROSCEND ensures each customer's demands are met.
Contact Us
Welcome to get in touch.