Industrial Ethernet Switch - High-quality Industrial Ethernet Switch manufacturer from Taiwan | Proscend Communications Inc.
PROSCEND is Taiwan high-quality Industrial Ethernet Switch manufacturer and Industrial Ethernet Switch supplier Proscend Communications Inc. was founded in 1999 and is located at the Hsinchu Science Park, a well-known high-tech park in Taiwan. Our mission is to design, develop, manufacture, and market innovative broadband products of networking. since 1999.
Industrial Ethernet Switch
Proscend Industrial Switch Series is evolving Industrial Network to full Gigabit Ethernet. In response to rapidly growing bandwidth requirements and billions of "things" are to be connected to Internet following the developments of smart city and Industrial IoT, Proscend offers excellent Industrial Switches enabling the legacy Industrial network to evolve to full Gigabit Ethernet network.
The essential product lineup is the Industrial GbE Managed Switch 850G Series featuring the backbone of industrial networks, the 850G Series not only offers 1000Mbps Ethernet speed over copper and fiber, but also perfect quality of services, network security and resilience, as well as reducing network response time for mission critical applications such as video security, utilities and energy, transportation, etc. While the 10G Managed Switch 850X Series features network aggregation layer to accommodate all traffic from the 850G Industrial Switches, then connect to servers or storages, via the four 10G uplinks of each 10G Managed Switch 850X.

The Industrial GbE Switch 810G Series locating at network edge features full Gigabit, fiber uplink, plug-n-play with cost competitive advantage, the 810G Series performs the easiest and best solution for network expansion with least training and labor costs.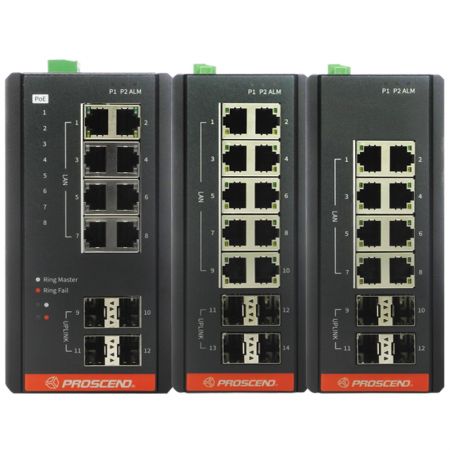 850G-12PI / 850G-14I / 850G-12I
Proscend Industrial GbE Managed Switch 850G Series includes three models featuring full Gigabit...
Details
810G-5PI
Proscend Industrial GbE PoE Switch 810G-5PI brings the 5-port full Gigabit, slim design, and plug-and-play...
Details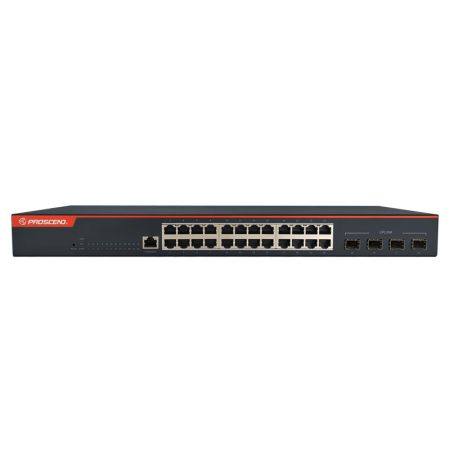 850X-28
Proscend 28-Port GbE Managed Switch 850X-28 supports 24 RJ45 10/100/1000BASE-T ports and provides...
Details
Industrial 5G NR Cellular Router
Get Industrial 5G Cellular Router Datasheet.

Download
PROSCEND Industrial Ethernet Switch Service Introduction
Based in Taiwan since 1999, Proscend Communications Inc. is a world-class and industrial grade Industrial Ethernet Switch supplier and manufacturer with more than 25 years of experence in the Network Communication Industry. Major products and services, including Industrial-grade products,Internet of Things solutions, and Intelligent Network Management System. All network communication device and systems can manage data from devices connected to IoT networks in any harsh environment.
PROSCEND not only enables customers with mission-critical Internet of Things (IoT) connectivity products, services, and solutions, but also provides a network and device management platform to ensure reliable Internet and secure data in demanding environments for deployments of any size, anywhere.
PROSCEND has been offering customers high-quality Industrial Ethernet Switch production service, both with advanced technology and 25 years experience, PROSCEND ensures each customer's demands are met.
Contact Us
Welcome to get in touch.